Bitcoin mining equipment is becoming more efficient in electricity supply
by Juan Aponte - 01:27 AM Sep 11, 2019
Electricity consumption by bitcoin mining does not reach 70 terawatts per hour, which is still below the peak recorded in November 2018. This is even though processing power has reached a new historical peak, recently exceeding 90 EH/s for the first time.
In data from the firm
Statista
, you can see that for July 2019 electricity consumption by
mining
Bitcoin was 69.79 terawatts/ hour, while between September and November 2018 the number was above 73 terawatts/ hour.
The same graph of Statista shows that after those numbers of November 2018 electricity consumption fell to 37% in January this year, coinciding with a decrease in the hash rate or hash rate of the network.
However, the increase in energy consumption in the following months does not correspond to the levels at which Bitcoin's network processing has grown, as can be seen when contrasted with mine power metrics such as BitInfoCharts.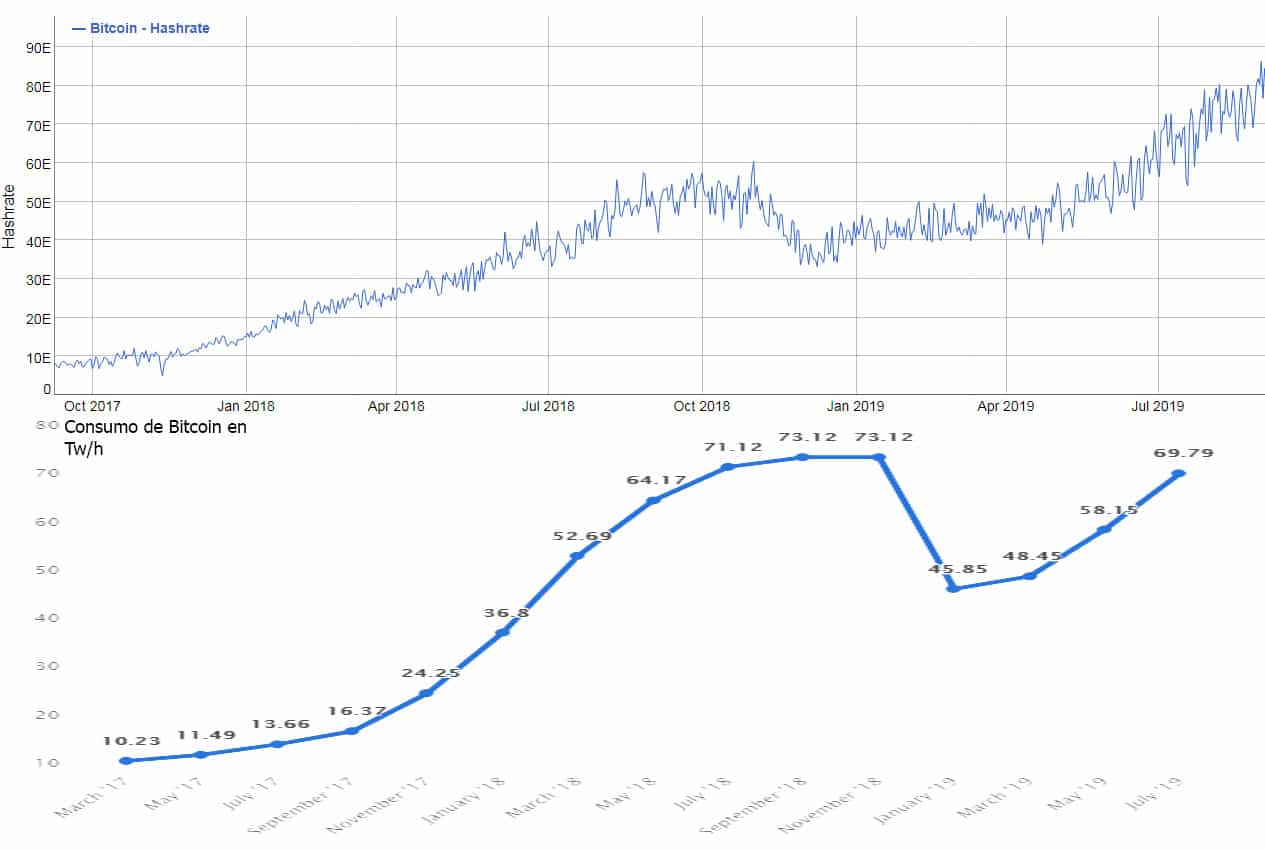 Superior graphic, from Bitcoin processing: Statista. Lower graph, Bitcoin power consumption: BitInfoCharts.
According to data from this
firm
, Bitcoin's processing power for November 2018 had a maximum level of 60EH/s and fell below 40EH/s at the end of the month.
Bitcoin's hash rate reached 60 EH/s again in June, while in the following month it exceeded 70 EH/s at times, in figures from BitInfoCharts itself. Despite this, consumption levels did not reach those seen last November until July of this year.
In May 2018 electricity consumption was around 74 terawatts per hour, in a month with a processing power that did not even reach 40 EH/s. In May of this year, on the contrary, about 60EH/s were recorded at some point. In that month, electricity consumption was even lower than in May of the previous year.
In recent weeks, Bitcoin's hash rate has reached new highs, according to different metrics. BitInfoCharts, blockchain.com and Coin Dance agree that the 80EH/s have already been surpassed.
More power and efficiency
Bitcoin mining equipment has not only improved its processing power over time by seeking higher profits from mining activity. There have also been improvements focused on more efficient energy consumption.
This is reflected in the significant increase in the hash rate of the network during this year without that having translated into a more significant consumption impact.
Companies such as Innosilicon, GMO, Micro BT, and Bitmain remain in competition to launch the most powerful and efficient miners on the market. At the moment, Bitmain's Antminer S17 Pro, announced in April of this year, stands out.
About The Author
Juan AponteI am an industrial engineer specializing in blockchain. Enthusiast of cryptocurrencies and writing the latest news regarding the Crypto world.