The open interest of bitcoin futures in CME grows again after a fall at the beginning of October. During the first weeks of the month, investments in this type of contract in the Chicago Mercantile Exchange (CME) market have increased steadily. This is revealed by data from the analysis firm Skew, published this Sunday, October 20.
Through a graph published by Skew through Twitter, it is possible to appreciate the increase in the value of futures contracts of bitcoin of institutional accounts, which represent long positions. The figures related to open interest exceed the equivalent of 1,000 BTC after the amount was around 500 BTC at the beginning of the tenth month of this year.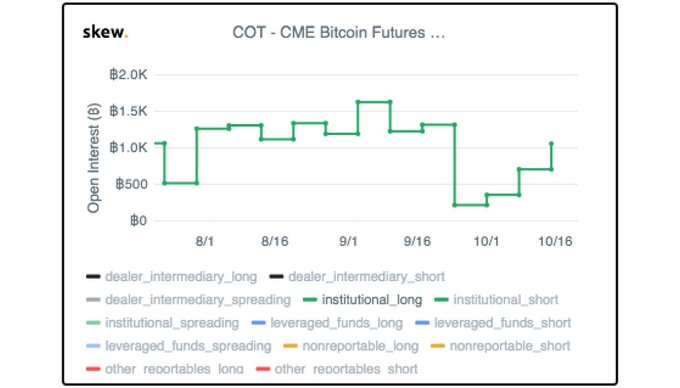 Open interest refers to the total number of options or futures contracts that have not been closed at any given time. It is also the number of purchase orders that remain open in the stock market before a session is initiated.
Skew's chart shows that at the beginning of October, open interest in CME fell below 500 BTC. However, during August, negotiations had been progressively increasing. At the end of September, open interest figures remained above 1,000 BTC, as can be seen in the same release.
In the tuit, the firm adds that institutional accounts refer to pension funds, insurance companies, equity funds, among other accounts whose majority investment is of institutional origin.
Institutional investment in bitcoin, a growing interest
Institutional interest in bitcoin derivatives shows signs of growth. The October figures for CME seem to correspond to the institutional sector's intention to invest in bitcoin and other cryptocurrencies.
This scenario was reflected in the results of a survey published in early May this year. According to the survey, sponsored by Fidelity Investments, about 50% of institutional investors consider cryptocurrencies an excellent investment opportunity.
Of those consulted at the time, more than 20% already had investments in various cryptocurrencies. On the other hand, 72% of those interviewed expressed their preference to invest in products derived from cryptocurrencies.
New impetus for bitcoin futures contracts
This growth in CME futures contracts has also been seen in another of the bitcoin futures providers, such as the most recent case of the launch of BTC futures contracts in Bakkt.
After a slow start, relative to market expectations, reports from the financial products firm and independent organizations recorded an increase in interest in Bakkt bitcoin futures contracts.
As for CME, July this year saw record open interest positions for its bitcoin futures. Besides, nearly 1,000 new accounts had already been opened on the platform by that date. At that time, this figure represented an increase of nearly 30% over the total number of accounts on the CME platform.