Election Results in Argentina Shoot 27% Bitcoin Price in Local Currency
by Alyan A. González-Méndez - 11:48 AM Aug 13, 2019
The markets have reacted with panic to the results of the primary elections on Sunday 11 August in Argentina. Bonds, shares and the value of the Argentine local currency plummeted. Which affected the bitcoin market, with a price increase of 26.7% in Argentine pesos on Monday morning.
Local media
report
a general historical drop in the prices of bonds and stocks. As well as a loss of up to 15% of the value of the Argentine peso against the U.S. dollar. According to reports, ADRs belonging to Argentine companies on the New York Stock Exchange. Plummeted to 60% at the start of the day.
Likewise, the Central Bank of Argentina was forced to
inject USD 80 million
into the currency market to alleviate the pressure on the dollar. Which took its price up to 60 pesos per dollar. However, although the price of the dollar fell briefly. It is currently quoted at 59 pesos per dollar in exchange houses. Which sets its last year's devaluation at 97.65%.
Bitcoin: Financial Safe Haven
Apparently, after the results of the primary elections opened a clear possibility that opponents will return to power in that country, investors fear the return of interventionist policies and excessive controls on the economy.
In this context of elections, the
price of bitcoin
in Argentine pesos registered an increase of around 27% according to data from the website coinmonitor.info - In Argentina, the price of each bitcoin (BTC) is around ARS 673 thousand, on average.
[caption id="" align="aligncenter" width="1120"]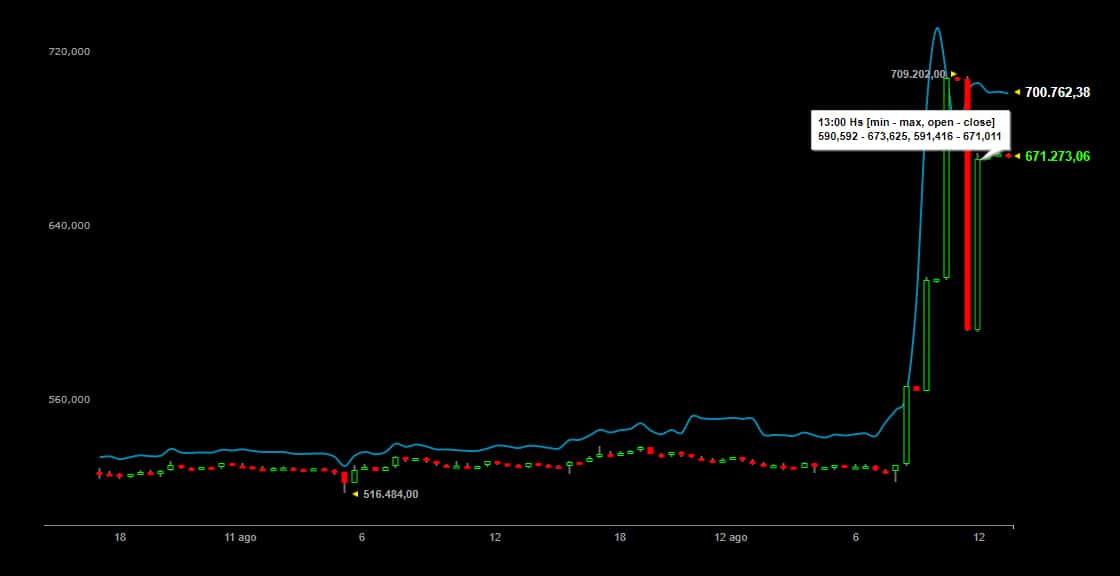 Source: coinmonitor.info[/caption]
This figure represents historical trading highs of BTC against ARS (Argentine pesos). It is possible that the increase in bitcoin prices is the result of some investors going bitcoin. To protect themselves from the devaluation of Argentine pesos.
Face The Volatility Of The Traditional Market
Speakers of the crypto ecosystem, such as developer Francisco Calderón, recommended that Argentines buy bitcoin in order to face the volatility of the current market.
[embed]https://twitter.com/negrunch/status/1160970127195746305[/embed]
According to some analysts, market volatility could continue. As opposition candidate Alberto Fernandez would have enough voter support to win in the first round in October. According to Argentine electoral regulations, any candidate with at least 45% of the vote wins the presidency in the first round.
In the last 24 hours the
price of bitcoin
has ranged between US$11,500 and US$11,300. With market capitalization remaining above US$200 billion.
About The Author
Alyan A. González-MéndezPhilosopher and social theorist betting on the cryptoeconomy. Graduating from Universidad Central de Venezuela. My motto: "The philosophy supporting tech and digital marketing is the most feared weapon by competitors only they don't know it yet."