Ethereum which is a global decentralised cryptocurrency has been ranked at number two across the world. This ranking is particularly based on market capitalization which made it reach to the second number. According to the general census it came out that Ethereum is the one that is leading the whole altcoin market.
Several analysts have noted that whenever the market cap goes up, bitcoin tends to increase faster as compared to the altcoins. When the market cap goes down, altcoins decrease rapidly as compared to bitcoin. This is the major reason because of which bitcoin is leading the market for a very long time.
Ethereum price and market capitalization are correlated
@CryptoCape who is among the top crypto traders in the market seems to have a different perspective. According to him, the market capitalization of total cryptocurrency and the price of Ethereum are correlated with each other. This correlation is positive in nature. He states when there is an upward move in the market, it will also move upwards and vice versa.
$ETH and #crypto total market cap have now a positive correlation.

This means that $ETH "lead" the market now. When prices goes up, it's better to long ETH. When prices does down, it's better to short ETH (compared with $BTC) pic.twitter.com/X07QayZvDk

— il Capo Of Crypto (@CryptoCapo_) March 14, 2020
If we see this claim then it completely discards the other one which states that bitcoin always leads the market as compared to Ethereum.
How Ethereum changes with changing market cap
In the chart, it has been shown that how Ethereum is increasing or decreasing as compared to Bitcoin with changing market conditions. It indicates either it is increasing or decreasing it is doing it at a faster rate than bitcoin.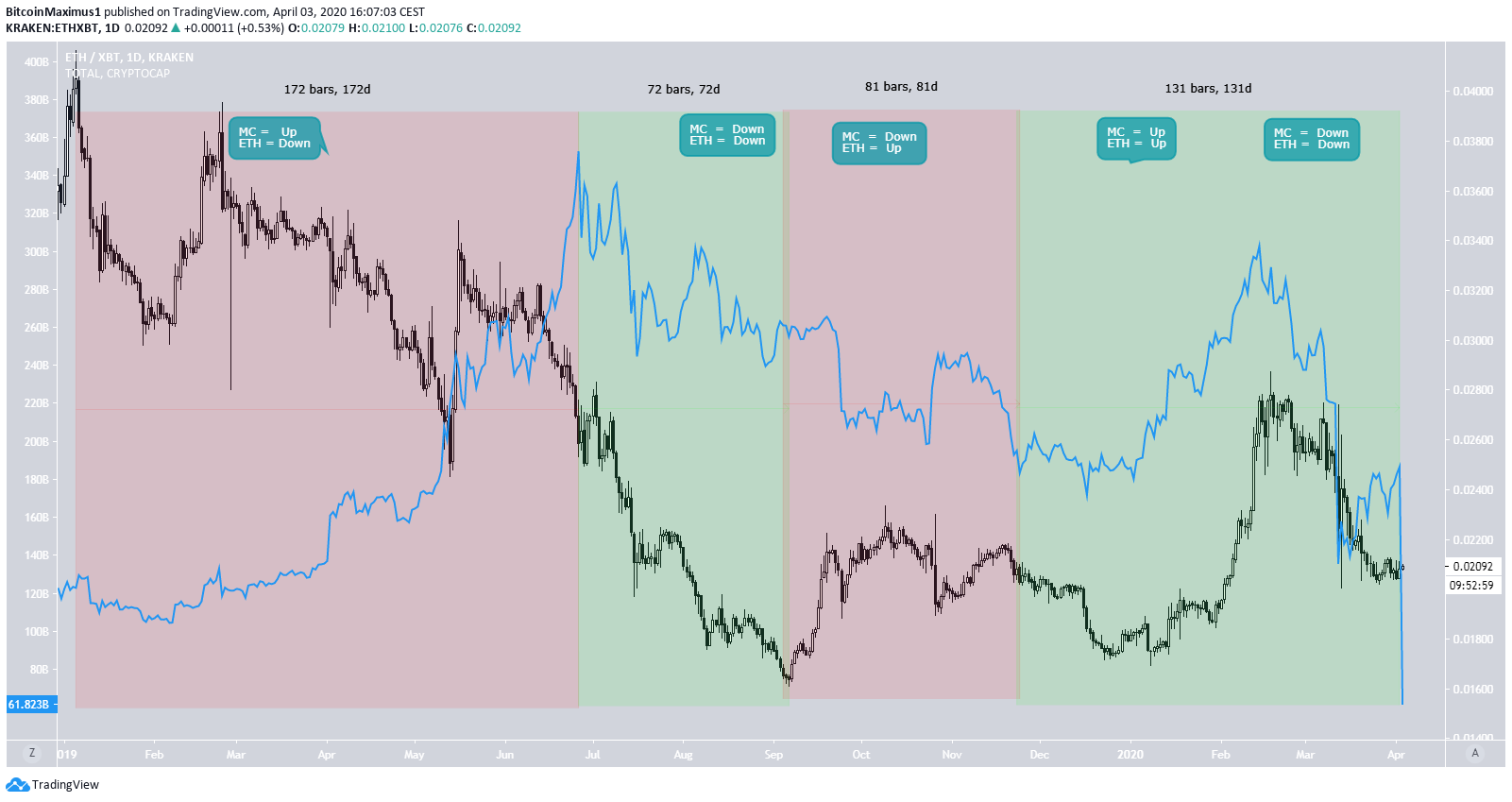 The current time could be seen as a time where both have correlated positively since 2019. Some people might think that Ethereum will give them more profit than bitcoin but this is not the case. If you see the chart, the price of Ethereum has gone down at a lower rate as compared to bitcoin when the market was down.
Well, through this whole analysis it has been made clear that Ethereum will always lead the market trend.
You May Also Read.