Ripple Ambitious, XRP Prices Break Out From A Bull Flag
Over the counter (OTC) XRP trading and non-disclosure agreement could be limiting bullish price action. 
Ripple (XRP) bullish after June 22nd price rally
Relative to BTC or ETH, XRP is lagging. Even though there is Libra and much hubbub about MoneyGram, bulls will begin to show their faces once again once there is a close above 50 cents.
The cryptocurrency landscape can be overwhelming. Complex and multifaceted, the so-called "cryptosphere" is an amalgam of diverse fields. As a result, crypto and blockchain is a melting pot. Armed with clashing opinions, analysts are always at loggerheads.
Despite the diversity in the cryptocurrency asset class, most prefer investing in Bitcoin. However, XRP is breaking away from BTC's influence. Acting as a base asset for most crypto-to-crypto trading pairs, BTC has a direct correlation with most digital assets. But, as mentioned, XRP is gradually pulling away.
Confined in a trading space for the first half of the year, XRP is ranging and likely undervalued. Even though recent events could catalyze participation by bulls, attracting investors to the third largest asset, most are skeptical.
Because Ripple controls most of XRP in circulation, there are claims of centralization — and even manipulation as some suggest Ripple tries to keep prices as low as possible. That and countless non-disclosures with partnering financial institutions buying XRP through over-the-counter exchanges, supply-demand statistics are not readily available.
It is only after Ripple's decentralization strategy is fully implemented that market forces would satisfactorily price XRP.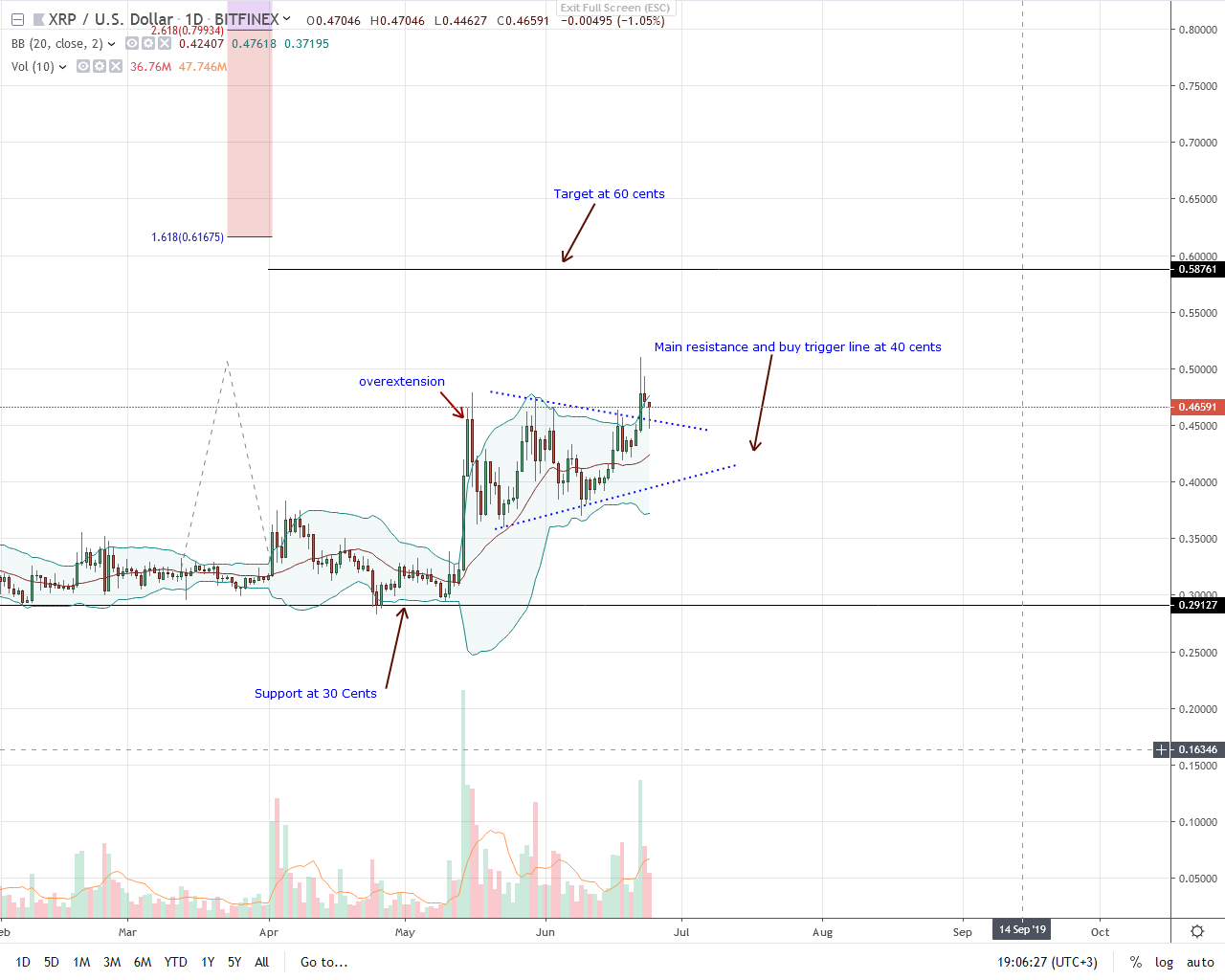 Even so, XRP demand is up at the time of writing. Changing hands at 46 cents and 16.1% higher from last week's settlement price, bulls are vibrant. Regardless of liquidation of the last 24 hours, the path of least resistance is northwards. It is easy to see why.
First, notice that XRP is trading within a bull flag, within May 2019 trade range. However, before today's stagnation, June 22nd breakout above the resistance trend line, at the back of high trading volumes, signal buyers.
In that case, risk off traders can buy the retracements while aiming at 60 cents. Meanwhile, if buyers build up momentum leading to a close above May high at 50 cents with equally high participation, conservative traders can buy the breakout. Targets will be at 80 cents and $1.40.
Anchoring this XRP/USD trade plan is June 22 bull candlestick. Reflecting its significance is participation at 113 million.
Therefore, any breakout above 50 cents or confirmation of the leading bar, thrusting prices over and above 43 cents ought to be with better trading volumes exceeding 113 million.