Paul Donovan, Chief Economist of UBS Global Wealth Management, published a weekly update entitled "Does Bitcoin defy the Zeitgeist?" on the UBS website, outlining many issues he sees with cryptocurrency. What caught our attention is his claim that Bitcoin has extraordinarily unequal ownership. Its holdings are concentrated amongst a small number of people, and its governance is more plutocratic than democratic. He claimed that Bitcoin adoption is denied to those minority groups who have reduced online access.
However, many bitcoin enthusiasts shared their disagreement with Paul's claim on social media. We share their dissent and present some facts covering the adoption and rise of Bitcoin.
Mainstream Bitcoin Growth Fuelled by Institutional Adoption
Bitcoin has been ascending since the year 2020- fueled by large-scale institutional investments and as a haven to hedge against the rising inflation globally. The media hype and the trend started by publicly traded companies led to growing investments by individual customers. The limited supply factor of Bitcoin kicked in and companies and people started getting their hands on Bitcoin and other digital coins as well. Bitcoin reached new highs 17 times in the last YTD and soared more than 500% growing over $60,000.
If we take a look at the active numbers of user addresses that transact per day in Bitcoins, they have grown over the entire year. Every day around 1M unique addresses either send or receive Bitcoins. The long-time holders of the digital coin are selling them for huge profits, leaving room for the new retail investors to enter the market.
Statistics show it is a sustainable adoption of Bitcoin rather than a hype or frenzy like the bubble of 2017. Amongst the global macro meltdown of other assets like major indices, bonds, and gold, Bitcoin has been on a bull run.
Analysis of Bitcoin Adoption Globally
As per a report released in Feb 2021 by crypto.com, the number of global crypto users has reached 106M. It is mainly driven by the strong growth in Bitcoin adoption. Of this, around 71M are BTC owners. 
It has been adopted globally. Countries like the USA, Russia, Europe have had the highest trading volume on online exchanges worldwide in 2020. The African and Asian nations are not behind. The interest in cryptocurrencies has been higher in Africa and Latin America than in some developed economies. Bitcoin trading volume in Nigeria was twice as high as that of Europe. Crypto is a big attraction there, generating more than $400M worth of transactions. Similarly, Columbia also has a big market for Bitcoin. 
Major corporations have begun adding digital currencies to their asset pallets. Analysts say that Bitcoin is becoming a global asset.
Its use in everyday commerce is boosted by its adoption by big companies. PayPal has allowed its customers to use their Bitcoins to globally pay millions of its online merchants. Users can buy, sell or hold their coins in PayPal's digital wallet. Tesla and WeWork have also adopted it as a method of payment for their products and services. Investment banks like JPMorgan, CitiBank, and Goldman Sachs will allow customers to hold cryptocurrencies in their investment profiles. Mastercard and Visa are working on incorporating Bitcoin soon onto their networks. This will greatly enhance the usability of Bitcoins in everyday trade rather than just being an investment option.
According to bitcoin supply distribution analysis by Glassnode, institutions, funds, custodians, OTC desks, and other high net worth individuals hold around 31% of the Bitcoin supply. Another 23% owns by smaller retail investors, holding up to 50 BTC each. The relative amount of BTC held by smaller entities is continuously growing.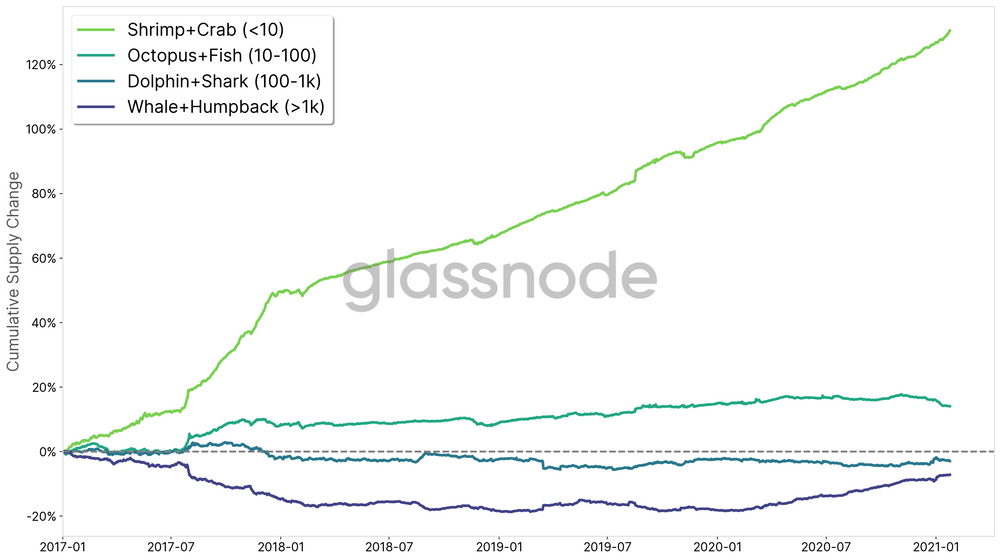 The figure shows how the smallest players have increased their holdings by 130% since 2017. On the other hand, the BTC ownership of large entities has decreased over time.
What People Are Doing with Their Bitcoins
Currently, most of the Bitcoin is held as an investment just like gold. But slowly and steadily markets are opening for its mainstream adoption. The gaming, travel, and food industry are the pioneer acceptors of digital coins. We would have to wait for some more time here for more businesses to accept Bitcoins.
Another option is the use of Bitcoin in DeFi and NFTs. These have been the most profitable and exclusive use of the Ethereum network since mid-last year. Users can lock their Bitcoins in Ethereum smart contracts converting them into pegged stablecoins like wrapped Bitcoin (WBTC), renBTC, the-tokenized-BTC, sBTC, tBTC, Huobi-BTC, and pTokens-BTC. These can be used for a number of DeFi offerings or can be exchanged on DEXs for other tokens. Currently, 2,17,461 BTCs are locked on Ethereum which is 1.16% of Bitcoin's circulating supply.
People are using their bitcoin holdings to earn steady interest on DeFi lending and crypto staking platforms. Also, it can be used as collateral to get other crypto token loans. They can borrow other Ethereum-based USD stablecoins while locking Bitcoin as collateral. 
Access to Bitcoin Using Wallets and Exchanges
Getting Bitcoin is really easy. The most convenient option is to buy it from someone. Anyone with an internet connection can buy and use it. Users will need to set up a Bitcoin wallet just like a physical wallet that holds the cash and cards. The wallet is a software wallet stored on the hard drive of the user's computer, or an online, web-based wallet, or a vault service. The most widely used and user-friendly wallets are Coinbase, Exodus, Electrum, Mycelium, Ledger Nano X, etc.
After setting up a wallet, users can buy Bitcoins using fiat currency on exchanges. They charge a fee for their services and set an exchange rate for Bitcoin and the fiat currency. Some widely used secure exchanges are Binance, Coinbase, Gemini, CEX.io. There are increasingly popular Indian crypto exchanges such as CoinCDX, WazirX, CoinSwitch Kuber, etc.
Most exchanges require the registration and KYC of their users, undermining their privacy. To avoid this, decentralized exchanges can be used like MDEX, Uniswap, Burgerswap, Sushiswap, 1inch, etc. implemented on different blockchains.
After the registration process, users need to add a payment method like a bank account, debit, or credit card. Most exchanges charge between 3%-5% for bitcoin purchases made with a card. To buy crypto, the user transfers money to the exchange and selects the coin they want to purchase. Once agreeing to the transaction fees, the transaction is carried out by the exchange and the bitcoin is shown in the user wallet. Users can now use their Bitcoins as they desire.
Conclusion
The statistics suggest the more and more adoption of Bitcoin and the decreasing gap between wealth and its adoption. Bitcoin will be bought and used just like fiat currency, thanks to efforts by Visa and Mastercard for its wide adoption. Moreover, it is just a matter of time that Bitcoin will reach and affect our everyday lives just like the internet, mobiles, and online shopping has been.